New charity, CrossLink Medical Resources, brings advocates to patients
By LINDA STEIN
This email address is being protected from spambots. You need JavaScript enabled to view it.
Thursday, August 30,2012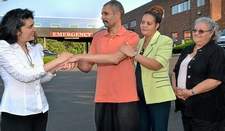 Patient Advocate Sandra Khalil,left, with cancer survivor Awad Abdalla, his wife Safaa Feliaous, center and Violet Heness right,with Social Services at St George Coptic Church,share a moment at Abington Health Lansdale Hospital. (The Reporter/Mark C. Paoras)
Awad Abdalla knew something was amiss before he immigrated to America from Egypt. But doctors in Egypt told him not to worry about his stomach pain, the 47-year-old Hatfield man said through a translator.
So Abdalla came here with his wife, Safaa Feliaous, last July. After a week in his new home the pain in his abdomen became too intense to bear. A neighbor called Sandra Khalil, who had been helping people in the community with their medical problems.
"Sandy came and took me and we went to the hospital," Abdalla said, through Violet Heness, who is involved with social services for the St. George Coptic Orthodox Church of Greater Philadelphia in Norristown, and translates for Abdalla.
Feliaous, also through Heness' auspices, said that when they got to the hospital they were told there was nothing wrong, just like in Egypt, but "Sandy insisted he has to stay overnight."
Khalil said an emergency room doctor at Abington Health Lansdale Hospital wanted to refer Abdalla to a doctor as an outpatient but Khalil insisted that he must be admitted. In addition to his stomach pain, Abdalla, a diabetic, hadn't eaten in three days.
"Sandy kept with me and she was the person supporting me for 10 days with the doctors," said Abdalla. Because Abdalla had just come to the United States through the legal lottery system, he didn't have health insurance.
Khalil and Heness helped Abdalla get an expedited health insurance policy through a government program.
After he was stabilized, Abdalla was then treated for months at Fox Chase Cancer Center, where he underwent chemotherapy, radiation and surgery to remove a very large rectal tumor. Amazingly, Abdalla is currently cancer free.
"Sandy did a tremendous job," said Abdalla. "She always is the one with the supports, the medication, the nurses, anyone involved. By herself, she did anything for me to survive my ordeal. Sandy had been right there for us. I don't know what I'd do without her. The doctor said, 'If you did not come to the U.S. you'd be dead.' Sandy gave me life."
Khalil, 37, meanwhile, had worked as a biomedical engineer for "big pharma," but she felt she should be doing something more fulfilling with her life.
"I felt something was missing," said Khalil, also of Hatfield. "I was working long hours, traveling."
Then in 2007, Khalil, who holds a chemical engineering degree from the University of Texas at Austin, and an M.B.A. from Drexel University and is a licensed professional engineer, was laid off.
"My heart is to volunteer, to help people," Khalil said. "I started volunteering at hospitals and nursing homes." She had volunteered at hospitals since she was 14 years old, she said.
While visiting patients at a nursing home, Khalil said, she went into the room of a young male patient who couldn't talk. When she left the room a nurse told her that the man had had no other visitors in a year.
"In 2005 I had an accident on my bike and hit my head," she said. She was riding in downtown Philadelphia, dressed up and heading to a conference with medical professionals and not wearing a helmet.
Khalil suffered a severe concussion.
"Everything turned out okay," she said. But "all of a sudden, in a flash, your life passes by."
She woke up in a hospital emergency room, alone and afraid. Her parents, who had emigrated from Egypt, live in Texas where she grew up. Khalil had moved to the area for her job.
"I realized how important patient advocacy can be," she said. "Being that angel when they're alone and scared. I felt this needed a charity."
Khalil is now devoting herself to the charity she founded, CrossLink Medical Resources.
"I'm dedicating my life to service," said Khalil. "I'm as close to a nun as you can get and not live in a convent."
The charity's logo features a dove holding an Egyptian ankh, the pharaonic symbol meaning "key of life," she said.
Khalil has helped about 15 patients negotiate the medical system as an advocate. She said she's on a list of volunteers with a local church, St. Mary's & St. Kyrillos Coptic Orthodox Church, and has also helped a child with epilepsy who is a student at Hatfield Elementary School with accommodations for his condition.
Explaining what was going on with his health condition to Abdulla, who is illiterate in Arabic, was "a huge hurdle to jump over," she said. She continues to advocate for Abdulla with the health care system.
"Just last week he was told that he needed an endoscopy," she said. "I recalled that there was an endoscopy done at Abington Lansdale. It turned out he didn't need another one." So her advocacy saved the patient from a needless procedure and reduced the costs for the health care system.
"It's been an amazing process to see what a health care advocate can do," she said.
Abdulla, a construction worker, hopes to return to that trade and also learn English. He's learned that he has a genetic propensity for cancer and has told his twin brother back in Egypt, where the medical system is not as advanced.
"I am thanking the Lord that he got us to the U.S. and Sandy and Violet," said Feliaous. "Without them I do not know what we'd have done. This is a very good community. Sandy was right there from the start to the end. And Violet. I hope the Lord sends people to help Sandy with the charity and to help everybody. Without her, he would be dead by now."
Khalil is seeking volunteers, office space and donations for CrossLink Medical Resources.
For more information contact This email address is being protected from spambots. You need JavaScript enabled to view it. or call (215) 780-1195.